There are plenty of stories to share about this year's Otakon, and rest assured that many more will make their way to either this blog or our podcast over on Daizenshuu EX. One story in particular is a combination of news and hilarity (and has pictures to go along with it!) so you can imagine that I could not wait to share it with everyone.
Saturday afternoon at 1:30 pm, veteran voice actor and director Yūji Mitsuya was holding a second Q&A panel. We had missed out on his panel Friday afternoon due to conflicting events, but made sure to be open for Saturday's panel. Mitsuya is perhaps best known to DragonBall fans as the voice of Kaiôshin in DragonBall Z, so while he is not necessarily in the same "importance" league as, say, someone like Toshio Furukawa or Mayumi Tanaka (both of whom are somehow tied to him in one way or another…!), he is no stranger to our extended anime fandom.
While it could be the subject of an entire blog post in-and-of-itself, and while it certainly is never a surprise to me, it continues to be an extreme disappointment to see how few people turn out for Japanese guests at anime conventions these days. Whether it is a lead animator, the creator of a series, a notable voice actor… it does not seem to matter. If they are not the hot English voice actor of the moment (hey, remember when Richard Ian Cox was the big shit for, like, a year?)… no-one comes to see them. It is incredibly sad when you take a step back and realize that we are all coming together to celebrate Japanese animation and culture (debatably, anyway; there is an argument for it all just being general nerd-culture-celebration loosely focused around anime).
But I digress.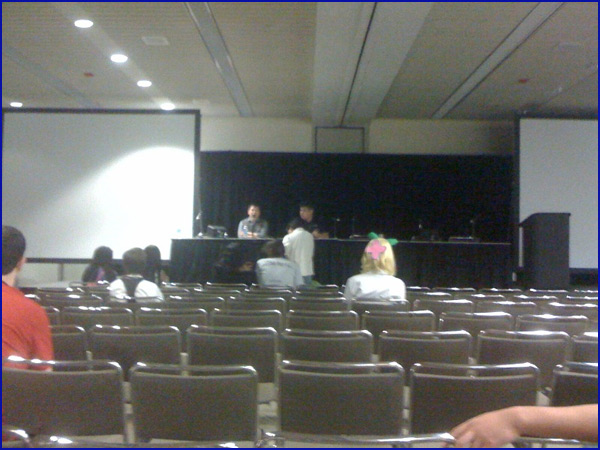 Despite the ridiculously low attendance to the panel, Mitsuya charged forward like a champion with all sorts of stories. We heard about drunken sempai lessons and advice, learned how he formed a quasi-male-idol band with Toshio Furukawa (Piccolo) in the past, forming a theater group with Mayumi Tanaka (Kuririn, Yajirobe), and much later on after moving around so many times (keep reading!), ghost-directing the cast of Rurouni Kenshin for three months before deciding to allow himself to be credited and specifically choosing and mentoring Mayo Suzukaze for the lead character's role based on her own theater performance. The man was just full of astonishing stories and genuine humility.
Then the fire alarm got pulled.
Translator Toshiyumi Yoshida first asked if we should all just stick around and continue, but Otakon staff insisted that we all must leave as the entire building had to be evacuated. In an amazing showcase of professionalism, Mitsuya suggested we all come along with him to the outside plaza there on the third floor and he would gladly continue telling stories and taking questions. So… the dozen or so of us followed him along and continued listening!
As we got going into the next story, Otakon staff insisted that we had to evacuate all convention center-related areas, including this outside area. Mitsuya was far from done, and insisted we all continue on with him! We traveled down an escalator, down some flights of stairs, and ended up alongside a wall outside of the convention center. Just as we started up again, Otakon staff yet again insisted that we continue onward away from the convention center.
Mitsuya was unphased. Much to the surprise of Yoshida, the entire group plugged onward with him and Mitsuya inside the nearby Sheraton hotel. We plopped in a corner and continued onward with the stories and questions! Mitsuya explained how he ran into Nathan Lane (the voice of "Timon" in Disney's The Lion King) in New York and screamed "I am Japanese Timon! I am Japanese Timon!" into the frightened actor's face. Unprovoked, he would burst into his characters' voices and lines to describe his excitement over the roles and love of his fellow actors.
I managed to get in the last question he had time for. It was still quite a ways off, but did he know if he would be returning to voice Kaiôshin in DragonBall Kai…? The answer that we received confirmed quite a bit about the show's production.
Mitsuya knew exactly what we were talking about, and admitted that he was not yet sure, himself. Being a director more than a voice actor, he is friends with the director of DragonBall Kai and has already expressed his desire to return to the role. What he told us next spoke volumes in very few words — he was unsure if they would be able to afford him, and if the series would even make it that far. He even slyly mumbled that he would be willing to take the job at a reduced rate!
With the entirety of Ginyu-Tokusentai being replaced with new voice actors (including Kenji Utsumi as Recoom, despite him returning to the show to voice Shenlong), along with plenty of other voice actors that have become much bigger in the industry since their roles in DragonBall, it has really made us wonder just how expensive DragonBall Kai actually is to produce, despite us always describing it as "cheap" and "a money-grab" and "half-assed" in almost every way. Hujio and I later discussed how it seems that these days we get confirmations of actors returning either very close to their first appearance in the series… or not at all. Many times it will not even come from the official site for the series, and instead from the actors themselves or their fan communities (such as the case with #17).
Branching off of that, we could not help but speculate further. Was the licensing of Kai to FUNimation for American distribution a way to raise quick capital to fund the further production of the series? When it was first announced, it was clear that the series would go through at least the Freeza arc, since the villain was clearly shown on all production materials. The fact that it would be moving onward into the next story arc with Cell was a very casual "announcement".
At the end of the day, this set of rambling paragraphs is less about DragonBall and more about how great of a time we had with Mitsuya. His courtesy and enthusiasm is unparalleled, showcased by his desire for a group photo with everyone at the end of the "panel":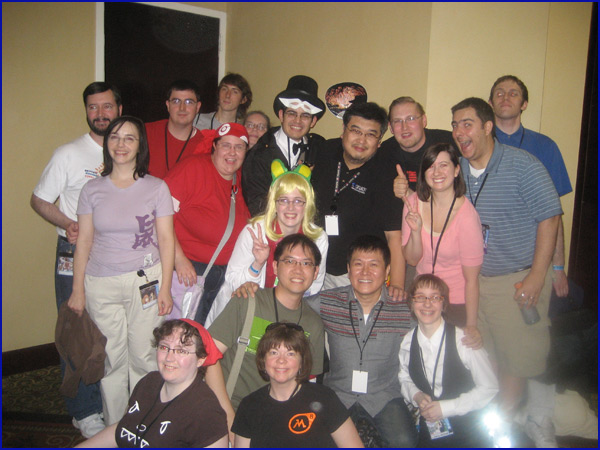 What a freakin' great time…!
(Thanks to Hujio and… oh hey, myself!… for the photos :P)