I never finished either New Super Mario Bros. (DS) or Super Mario Galaxy (Wii). Both came with extreme excitement and anticipation on my end, but something about them just didn't click with me. I may not be able to put my finger on it with Galaxy, but the DS game? I can tell you exactly what it was and why that caused me to never finish the game, despite starting it up twice:
The save system.
For those who don't know, you cannot save whenever you want in New Super Mario Bros. You can save when you clear a castle (mid-stage or end-boss), just like you were able to in Super Mario World. If you want to save at any other point in the game, you had to spend special coins that you collected throughout regular gameplay; three of these coins were hidden away in each stage. Despite this actually being an expansion on the save system from World, this was a major deterrent to completion (and even overall enjoyment) for me. From my perspective, if I am playing a portable game, I do not necessarily know how long I have to play before I need to do something else. The whole point is that the game is portable and can conform to my busy schedule. If I have to schedule my saving around the game rather than myself, I should just be at home playing a console game. It did not even matter that I always had plenty of coins to spare, and was probably coming up on a castle, anyway… it was the principle of the matter, to me.
This is what concerns and intrigues me about New Super Mario Bros. Wii. If you take a look at the E3 trailer, you can clearly see Mario collecting what appears to be large coins, and a special slot on the left that fills up as you collect these three coins: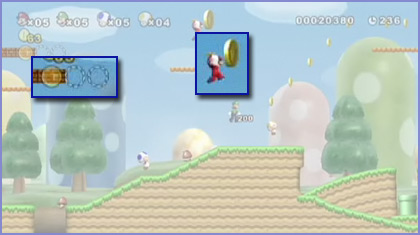 My question to myself is this: if it was so much of a problem on DS, will the (apparent, but not confirmed) same save system in the new console version provide the same frustration? Or, like the older versions, will the fact that it is on a console with (presumably) more time to dedicate to it end up with it not even mattering?
How about you all? Did the DS version's save system drive you away, or did it not even matter? Any concerns or thoughts about the new one?