Yesterday, our buddy Kevin coordinated a cross-country gaming date for the evening over Twitter. Myself, Andrew, Kevin, and our buddy Ryan all joined up for a little play-through of the Teenage Mutant Ninja Turtles classic arcade game over Xbox Live (10:30 pm eastern time, 7:30 pm western time). Seems like an easy enough recipe for a good time, right?
Well, mostly!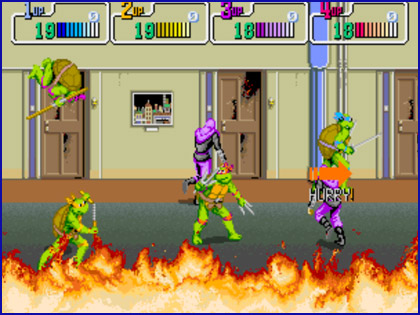 What we quickly found ourselves doing instead of just playing the game was fighting with the Xbox Live service to simply allow all four of us to join up. We initially started with Kevin creating a "Party", and then he invited the entire party to a private match in the game. No matter which order people joined in, who tried to set up a match next, inviting through the party system or one-by-one manually, we simply could not get all four of us into the same room. The fourth person would always get the "Game session is no longer available"-style message, even if they just got in on the previous try. We even all tried joining into a "quick match" together at the same time, and ended up with the same problem (only three of us able to join in, though it was a hilarious miracle and testament to the game's play-drop-off that we all ended up in the same random quick match).
Around fifteen minutes into this epic struggle against Microsoft's back-end, Kevin randomly suggested that we try signing off and back onto Xbox Live. Andrew and I did so, and we were magically able to all immediately connect to each other in-game. This proves that it had nothing to do with our ISPs, our firewalls, any port-forwarding in our routers, or any nonsense like that. It was nothing more than random nonsense on the Xbox Live side of things, and nonsense we typically only expect from the free PSN, as opposed to a service we pay ~$50 a year for (and therefore, rightfully so, expect a near-flawless experience with).
Once we got into the game, we sufferred little in the way of hiccups (with the exception of some minor lag problems on the "Come on guys, we gotta save Splinter!" stage). We managed to make it up to Krang, and while Kevin survived long enough to get him blinking, the rest of us succummed to his mighty kicks with the measely amount of lives we had left at that point. We all made a couple stupid mistakes, but now that we've played again… I fully believe we need to set up another session so we can not only complete the game for that achievement, but also make sure that Andrew doesn't get himself flame-throwed in the face so we can all get that achivement, too!