A couple weeks back, I was feeling the urge to listen to some new music. I have a tactic that I've used every so often, and since it results in awesomeness more times than not (like originally finding Anberlin many years back), I decided to give it a go once more.
I took a look at the upcoming release schedule for October over on Absolute Punk, picked a random band, looked them up on Wikipedia to see what type of music they played, and illegally downloaded the advance copy of the album (either on IRC or a torrent site; can't remember which).
The band I picked was Pompeii. An indie rock band with influences of Explosions in the Sky and Phil Collins, with comparisons to Sigur Ros? How could I not like this band?!
I ended up downloading their new album (which just came out yesterday), Nothing Happens For A Reason. I knew things were going to be wonderful when the first track was titled, "Where We're Going, We Don't Need Roads" (that's a line from the end of the first Back to the Future movie, if you happen to be uncultured). Combine all that with the realization that I'm actually going to Pompeii on my honeymoon, the fact that "Pompeii" is a great song by Gatsbys American Dream…
Well, I have a new favorite album of the year thus far.
But here's where it gets interesting. I saw that the band had been around for a couple years, and had a previous album released called Assembly. I quickly looked around, and saw that there weren't any active torrents. Next I went to Amazon to see if they offerred it (both as download and as physical CD). I saw that they only had a couple left in stock.
I figured that since I already loved their new album so much, I may as well just order them both right there on the spot. Threw them both into my cart, chose the Super Savings Shipping, and had them the day after they shipped (which means I got the new album right on its release date).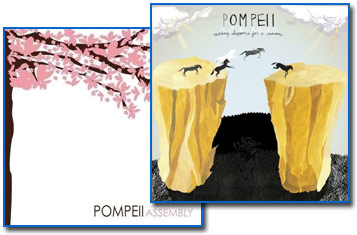 I'm absolutely in love with this band and their music. I am so glad I went through the motions of my random downloading, because I otherwise probably would never have heard of them, nevermind bought two of the albums. If you're interested, Assembly is $11.98 on Amazon, and Nothing Happens For A Reason is $13.98 on Amazon; neither of those are referral links, so don't think I'm trying to make a quick buck, here!
For single songs, I tend to just download the most convenient DRM-free version, but for full albums, I'm all about owning the physical product. I still love opening a new CD, checking out the artwork (I mean, c'mon… look at those!), and knowing that I can rip it to any format and quality that I want as the years go on.
I am in absolutely no way trying to justify anything, or suggest that this is the typical situation or even the exception. Quite frankly, I don't even give a rat's ass what you think of what I did. All I'm doing is describing one experience I had. Was it beneficial to me? Was it beneficial to the band? Was it beneficial to anyone else?
Who cares? I just found two new albums that I love to death.