I love good deals. I can't pass them up! It's one of my biggest faults… err… weaknesses… no, wait…
So the back corner of my local Target has a shelf where they throw all of their clearance electronics, which also includes video games. I've picked up a couple good things here and there (like some Lego Star Wars game on 360 that I'll probably never play for ~$5), and always make a point to head back there when we find ourselves at the store (which, honestly, feels like every other day).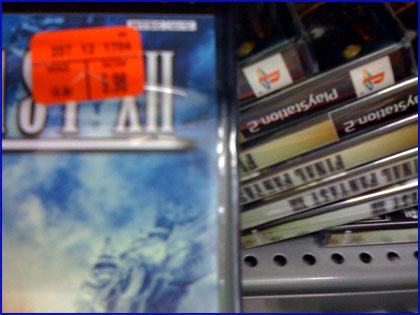 The picture kinda sucks, but that is Final Fantasy XII for the PS2 running a nice $9.98. I picked up the "Collector's Edition" version a couple years back at the GameStop "Game Daze" sale for about $20, I think. If I didn't already have it, I probably would have grabbed it today. Never played it, though 😛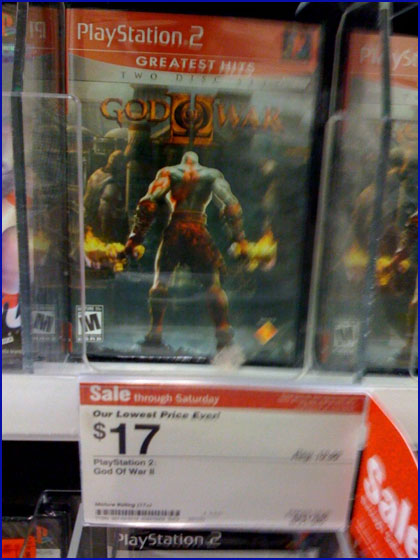 Here's a pretty good one. $3 off the standard $20 "Greatest Hits" is a nice little extra bonus. I picked up the first God of War game at Target for $15 on a similar sale a while back, and it's another one I haven't played :P.
That reminds me… I still need to post up that Top 10 list of PS2 games I own and haven't played…
So while I didn't actually pick up either of those two, I did grab NiGHTS: Journey of Dreams on the Wii. It was sitting on the shelf there a few weeks back for $35, but I checked Amazon on the iPhone and saw it was selling there for $30, so I passed it by. Today it was down to $25, so I picked it up.
We're recording episode three later today…!