It's that time of the month, again! We're pretty much on-schedule, and here to hit you back with another podcast episode.
Since I'm getting married next week, and therefore all parties involved are pretty busy right now and will be out of town (Hell, Jeff's down in Virginia as I type this for AnimeUSA), we had to decide what we were actually going to do for a podcast episode this month. Would we just do a cheap cop-out episode? Would we record anything? You can't do nothing for an episode, and you can't do a clip-show after only three episodes!
What we decided to do was have a split show. The first part is going to be as-per-the-norm, with the regular intros and talking about what we're playing right now (along with any fun stories to be shared). We also wanted to address some of the feedback we've been getting (thanks for all the blog comments and e-mails, everyone!), so we hit up one e-mail and gave some suggestions based on their questions.
The "conversation" for this episode, however, is actually a topic portion of my main show, Daizenshuu EX, from nearly two years ago (January 2007). In it, we all talked about old video game magazines (specifically EGM from the early-to-mid-1990s) and their coverage of import video games. There was (obviously) a huge DragonBall slant to the discussion, but it's actually general enough that it makes a lot of sense over here in the vgconvos style. I think you'll all find it incredibly interesting! The only downside is that I guess this was recorded before I got the new mixer and mics, so the sound quality is quite a bit different than you may be used to. I re-balanced it, though, so it should be slightly better than it was two years ago.
You may also want to check out the page I set up back when we first recorded the episode which showcases a whole crap-ton of scans from those magazines. There's stuff in there ranging from the very first issue of Nintendo Power (July/August 1988) up through stuff in 1997.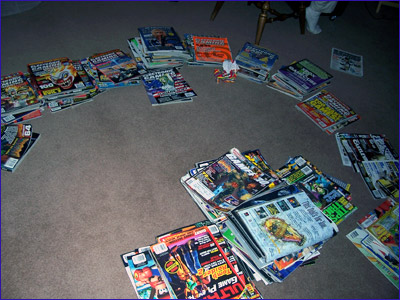 So there you have it! Next time you hear from me on the show I'll be a married Mike… which isn't all that different from how it is around here right now, except that it'll be legal on a piece of paper! Sweet! Hopefully Jeff and Andrew can keep things going with some regular blog entries over the next couple weeks. Catch you later, everyone!